INTEGRATED
TRANSPORTATION
PROGRAM
Fleming SAC, Leaders in sustainable transportation in Peterborough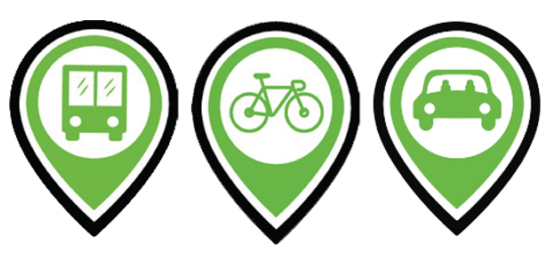 UNIVERSAL PETERBOROUGH TRANSIT PASS
September 2017 marks the launch of the full Transit plan with the city of Peterborough. Full-time Fleming students will have unlimited access to the Peterborough Transit System at no extra cost. The  three new express routes (Lansdowne, Sherbrooke & Late Night), on top of the previously provided Lansdowne and Kawartha routes will provide service every 15 minutes on campus, and be provided opportunity to be downtown within 20 minutes(Express only). For more information stop by the SAC office (C1430). For Schedules click the following link: Lansdowne Express (Route 14)- click here Sherbrooke Express (Route 16) – click here Fleming Late Night (Route 18) – click here Lansdowne (Route 7) – click here SSFC/Kawartha (Route 6) – click here
ZAGSTER BIKE SHARE  
We are excited to say that we have launched PTBO Bike Share on campus and in the community. As a f/t student your Transportation Fee includes Annual Zagster Membership. To obtain your promo code please visit the SAC Office or email flemingsac@flemingcollege.ca with the subject line  "Zagster." Be sure to send your email from your Fleming College email address with your student # and we will send the promo code your way (Mon-Fri, 9-4 or next business day) It's Super Easy! Ride Today It's Easy! Please note that bikes are not available from November 1, 2017  to March 1, 2018 as they are stored away during the winter months.
FLEMING RIDESHARE
CHECK IT OUT
Fleming Rideshare is a quick, secure and personal way to find all your commuting options. Using your home and work addresses, you can find a carpool, transit, cycling or walking pool that matches your commute. Search for nearby commuters looking for carpool, biking or walking partners. The portal is a powerful, convenient and safe way to track all of your commuting activity.
Your address will never appear on match lists and when you receive your list of commuting matches, you choose who and when to contact them. It's free to join.
FREQUENTLY ASKED QUESTIONS
Q: What is the Integrated Transportation Fee?
A: In December of 2015, the Fleming Student Administrative Council (SAC) held an integrated Transportation Plan Referendum asking students if they would support paying up to $365 per year to support sustainable transportation at Fleming College Sutherland Campus, commencing in the 2016 Fall term, and then afterwards on a yearly basis. Students voted in favour of the fee and in March 2016 an agreement was signed with the City of Peterborough to provide unlimited access to Peterborough Transit for each calendar year in which full-time fees are paid as a piece of this program.
Q: How can I pick up my transit pass?
A: New students will be issued their transit pass when they get their student card from the Registrar's Office. If a student got their student card at Welcome Days or before school starts, they can get their transit pass from the SAC office located in C1430. Returning Students will be able to get their transit pass from the SAC office.
Q: Can I give or sell my access to the Peterborough Transit system if I don't want or use it?
A: No, your student card and transit pass are non-transferable. Students who fail to comply may be subject to fines by Peterborough Transit and will be responsible for the cost of replacing their student card.
Q: What if I lose my Transit Pass?
A: Check with Peterborough Transit to see if someone turned it in at the bus terminal. you can also check with the info booth at the front of the college or in the SAC office. You can get a new student card from the Registrars Office. You can get a new transit pass from the SAC office which there is a $60 replacement fee for the first time replacement. A $365 fee will be charged for any additional replacement passes.
Q: How does this fee benefit students who drive or use other forms of transportation?
A: The Transportation Fee is designed to support many forms of transportation to Sutherland Campus including, but not limited to, Public Transit, Walking, Cycling and Ride Sharing. This will also help to reduce road & parking lot congestion, greenhouse gas emissions and results in a more sustainable community. For students that usually drive or travel by another mode, the program provides an alternative mode of travel.
Q: How much is the Integrated transportation Fee?
A: All full time students will be charged the Integrated Transportation Fee based on the following schedule: September Start F/T students – $365.00 January Start F/T students – $255.50 May Start F/T students – 142.35 The Peterborough Transit Pass associated with this fee will be valid from the first day of Sept., Jan. & May and be active through to the end of August with a one month grace period ending the end of the following Sept. http://flemingcollege.ca/admissions/tuition-and-fees
Q: Who is entitled to participate in the Integrated Transportation Fee?
The Integrated Transportation Program is a mandatory program for all full-time students. Others in the Fleming College Sutherland Campus community are eligible to participate in the program by paying the fee in full plus an additional $20.00 administration fee. This purchase can be made in the SAC office (C1430).
Q: Do I have to pay the Integrated Transportation Fee if I don't want the benefit of this program?
A: Similar to other compulsory ancillary fees, this fee does not have an "opt-out" option. This fee was presented to full-time students by SAC in the form of a referendum in December 2015 and was voted by students to be added as a full-time compulsory ancillary fee. All tuition and ancillary fees are approved annually by the Fleming College Board of governors.
Q: What is an ancillary fee?
Fees charged to support services and activities distinct from academic programming or general overhead for the institution. Examples of ancillary fees include convocation fees, student activity fees, athletic fees, health care and insurance fees, field trip fees and fees associated with the cost of buildings such as student centres. Compulsory ancillary fees are fees that a student is required to pay in order to enrol in or successfully complete any course or program of instruction. There are two types of compulsory fees: 1. Program ancillary fees which are compulsory for students in applicable programs; and 2. Institutional ancillary fees which are compulsory for all students.
Q: What process was used to establish this fee?
A: The Student Administrative Council By-laws state, By-Law No. 34 section 6.9 Referenda it states under subsection 6.9.1 Fee Increase/decrease that "any student levied fee that increases or decreases by more than 20%, must be approved through a student referendum." It also states in subsection 6.9.3 Student representation that "a successful referendum will recognize 15% membership turnout in order for action to be taken on a referendum item." The results of the December 5, 2015, referendum were as follows, 29% of eligible students registered a vote, and 54% of all voters were in support of the Integrated Transportation fee. For more information on Ontario Colleges Tuition and Ancillary Fees – https://tcu.gov.on.ca/pepg/documents/TuitionandAncillaryFees.pdf