Welcome to Steele Centre Pub
Operated by Fleming SAC
Welcome to The Steele Centre Pub, operated by your Student Administrative Council. We are open Monday to Friday starting at 11:30am. Located at the hub of the Sutherland Campus the Steele Centre Pub provides a laid back, fun and interactive space for students to come and enjoy.
Steele Centre employees are here to ensure the safety of our patrons with a positive social and healthy environment. Click here for information about Steele Centre rental, events, and catering.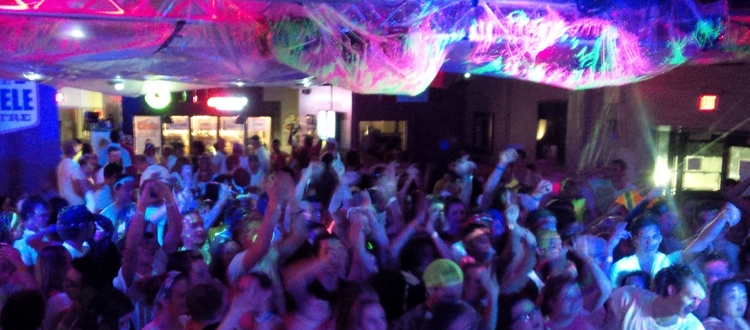 Admittance of patrons
Valid government issued ID as approved by the AGCO is required at all times.
Any underage Fleming student that enters our licensed premises must abide by our Underage Access Policy; NO handling, holding or consumption of any alcoholic beverage.
Underage students are required to sign-in and leave their Fleming Student Card at check-in as per the SAC Underage Access Policy.
Underage drinking will not be tolerated and is against the Liquor License Act.
All patrons must adhere (and will be held accountable) to Flemings Student Code of Conduct and Underage Access Policy.
All persons who appear to be intoxicated are prohibited from entering or remaining in the establishment. Intoxicated persons will not be permitted to leave the premises until reasonable steps have been taken to ensure that person's safe accompaniment or transport.
The capacity of licensed premises will not be exceeded.
NO in and out privileges.
All patrons that enter the premises may be subject to a bag or coat search by Pub Security.
Alcoholic beverages are not permitted in the bathrooms or outside of licensed areas.
NO outside alcohol is permitted at this establishment or on establishment property – it will be confiscated by Security Staff.
We are committed to not knowingly serve any patron to the point of intoxication, to ensure that commitment you will be refused service if any staff member believes you show signs of intoxication.
Weapons, Fireworks, Drugs and other illegal Substances are not allowed on premise will result in removal from the Pub.
We will escort out of our premises any patron who breaks the SAC Underage Access Policy, caught fighting, stealing, assaulting other patrons, using or selling illegal substances or an intoxicated patron. Also if you harass, threaten or endanger the safety of staff or patrons, you will also be asked to leave.
All of these infractions may be subject to further discipline, in all serious cases your actions will be reported to the Fleming College Security or Peterborough Police Services.
Smoking is not permitted inside the establishment.
No soliciting allowed on premises unless previously approved by Student Council.
ALL Fleming College Student Code of Conduct infractions will be reviewed by the College.
We Reserve the Right to Refuse Entry to Any Patron.
Please don't Drink and Drive! Be a responsible drinker; keep an eye out for your friends.
YOU know them better than anyone.